In spring 2020, That Dot wrote the copy for the website of Fern, a new subsidiary brand from Future Biogas, the UK's biggest green gas producer.
We also planned and executed the press launch of Fern AD, the microbiological consultancy side of Fern. Specialising in the optimisation of anaerobic digestion (AD) plant efficiency, Fern AD offers other AD plant operators the chance to learn the secrets of Future Biogas' industry-leading biologists and inhouse laboratory for the first time.
That Dot secured not only extensive news coverage in the energy sector media, but also pitched and wrote three opinion pieces from key Fern (and Future Biogas!) players – with a view to showcasing the range of expertise on offer.
Here are two of the opinion pieces (one is yet to be published) and the press release, along with some of the news stories it generated:
Opinion piece on collaboration within the anaerobic digestion sector - The Energyst
Opinion piece on the importance of data in AD - Bioenergy Insight magazine
Fern AD launch press release
News story in Renewable Energy magazine
News story in Envirotec magazine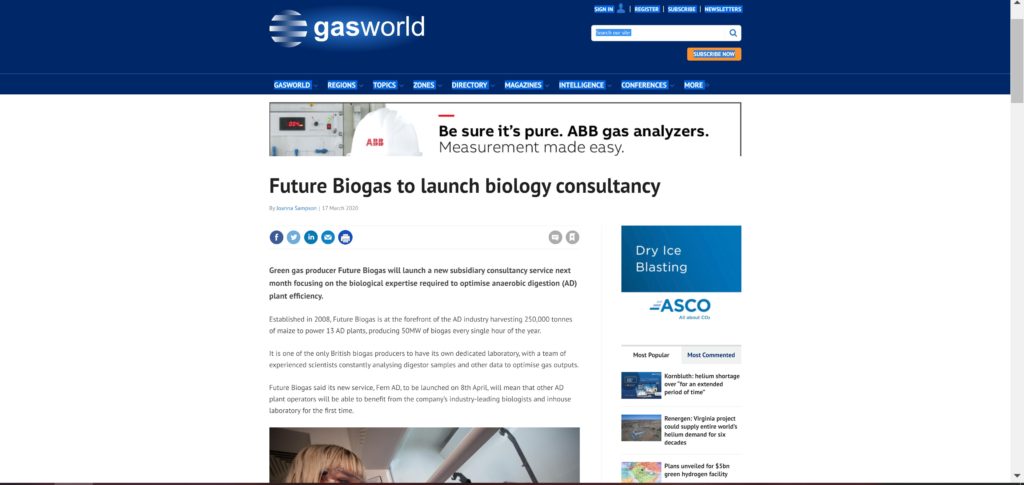 News story in Gas World magazine
News story in Bioenergy Insight magazine
Opinion piece on collaboration within the anaerobic digestion sector - The Energyst

Fern AD launch press release

News story in Renewable Energy magazine

News story in Envirotec magazine

News story in Gas World magazine